Elevator And Lift Service for Wichita And All of Kansas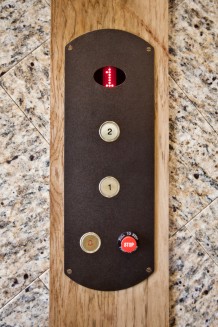 The HEC team is fully qualified to work on all types, makes, and models of accessibility equipment, including stair lifts, home elevators, and wheelchair lifts. Experience is helpful in every area, but in the realm of service it makes a particularly marked difference. Don't waste your time on a repairman who has to spend it learning his business. Call Home Elevator Company and benefit from the decades of learning we've already done.
Regular Maintenance Under Contract
Home elevators, and some other types of accessibility systems as well, need regular maintenance to promote trouble-free operation over the life of the unit. This maintenance may include lubrication, replenilishing hydraulic fluid, changing stretched cables, and safety inspection. Home Elevator Company can provide you with all of these services at a reasonable price and on a regular schedule tailored to suit your individual needs. Contact us to price and set up a maintenance contract.
ThyssenKrupp Access Service
If your elevator was made by ThyssenKrupp Access or one of its subsidiaries - LEV, National Wheel-O-Vator, and Access Industries - you may be concerned about getting service in the future since TKA has shut down its North American operations.
Rest easy: you'll have expert TKA service available as long as HEC is around. We know these producs as well as anyone and better than many, having installed and serviced them as a TKA dealer for decades. Yes, the industry has moved on and Symmetry is the new normal for us, but we haven't forgotten all the people who depend on ThyssenKrupp Access products every day. Get TKA service from the people who know it best, the experts of Home Elevator Company.