Dumbwaiters
If you have some difficulty moving about and carrying loads, a dumbwaiter can be an invaluable help. Even if you don't currently suffer from mobility challenges, it's smart to keep it that way by avoiding awkward, heavy, and dangerous carries up and down stairs. Every trip you make with a basket of laundry, a heavy suitcase, the garbage, or just your groceries, represents a very real risk to your health and safety.
Once the exclusive domain of millionaire mansions, dumbwaiters have lately become accessible for all homeowners. The cost is very reasonable, and the unit can be installed with minimal intrusion to your home's existing structure. Contact Home Elevator Company to assess your needs and integrate the best possible dumbwaiter solution for your situation.
---
We provide a complete line of Residential and Commercial dumbwaiters from Elevation Innovation Inc Such as the EEI Econo-Lift® dumbwaiter, an affordable unit with unique features such as an onboard LCD system monitor.
Econo-Lift® Residential Dumbwaiter
The EEI
Econo-Lift® dumbwaiter
, an high quality unit with the highest safety record on the market. The Econo-Lift® is available in 2 sizes, with custom cab sizes made to order upon request. It comes with a 5 year limited warranty.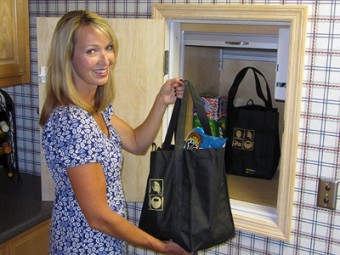 Standard Features
Call / Send stations with in use LED light
Finished birch cab with dovetailed joints
Commercial grade aluminum rail / trolley system
Maintenance free motor/gear assembly
Safety devices including slack cable, final limit, and trolley brake
Interlock door safety devices (locks doors when dumbwaiter is at other levels)
100 lb or 150 lb capacity
30 fpm rated speed 33% faster than the competition
Travel up to 40 feet and 3 stops
Roll up Silver line gate system
Optional Features:
Pre-hung doors (stain grade birch)
Pre-Hung fire doors available in birch, cherry, mahogany & oak
Non-standard cab configurations including front/back and 90 degree, up to 3 sides open.
Two openings at one level
240 Volt 50Hz power compatibility