Residential Elevators
An elevator is the ultimate access improvement to any residence or business, allowing movement between floors for those unable to handle stairs and increasing convenience for everyone. A well-made elevator is useful, attractive, and a great investment too - potentially raising the value of a home up to 10% (based on US national home value average).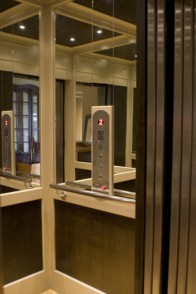 Choosing an elevator for a residence or business is not something an ordinary person does every day - but it is exactly what we do every day. So, once you decide to purchase, let us help you through the detailed process of making your selection. We work with individuals as well as architects, builders and contractors, on custom design and installations in new or existing structures.
We recommend and install home elevators by Symmetry, one of the most advanced and reliable brands in residential elevators today.
Home Elevators And Building Costs
We are beginning to see a trend in which many individuals and builders allot space in the floor plan for a wheelchair lift or elevator. Doing so up front creates cost savings and provides a great future option while reducing remodeling headaches down the road. Often the hoistway is simply incorporated into the structure and used as a storage area until the equipment is added at a later date. This creates a very beneficial selling point for the home, not to mention providing for any future accessibility needs of the homeowner.
What Goes Into An Installation
Home Elevator Company does not perform any construction or main wiring; these functions should be accomplished through applicable licensed contractors at separate expense. We will provide a free site survey and estimate, followed by drawings/specs for review and approval prior to any actual work being performed. We will schedule an installation time that best suits you. Once the elevator is delivered on site and work begins we will minimize disruptions and complete the installation in a timely manner.